Your exhibit design has a huge effect in how many attendees enter and linger in your trade show booth. A great exhibit design encourages crowds of attendees to engage with your staffers, learn more about your products and brand, and become qualified leads.
However, if too few trade show attendees walk into your booth, you won't generate enough leads to satisfy your hungry sales force.
Over the years we've discovered many dependable exhibit strategies that, time and again, capture attention and gather a crowd. In this article we share six strategies (and 18 examples) with you.
1. Mimic Your Customer's Environment
One fun and proven exhibit design strategy is to stage your products in a booth designed to look like your customer's own environment, where they would use your product. This strategy lets you entice and retain more booth visitors for several reasons:
You gain more credibility by showing customers that you understand them
It creates some drama, like walking onto a film set
Your prospects can more easily envision using your product
Your staffers can host more realistic product demos
The "set" facilitates more authentic storytelling
If your booth visitors can see how to use your product, they'll be even more likely to buy your product.
But in the end, it's more like a stage set than the exact replica of your customers' environment. You will likely need to add other elements to help your booth staff, such as graphics providing selling points, flat screens showing videos or interactive digital elements, or seating to allow for longer visits.
To show off their high-end appliances, Sub-Zero's trade show booth places them within a realistic-looking kitchen.
Delta Faucets recreates an entire luxury bathroom to show off their products in a more complete and realistic environment.
2. Create An Engaging Product Demo
One of the biggest reasons trade shows continue to thrive in the internet age is that trade shows let buyers see and touch products in person. Attendees can compare multiple potential vendors' products in one day, just by walking down the aisle.
Exhibitors who create a great demo can attract more attendees, prove their products' claims of superiority, and quickly advance the selling cycle. The best demos catch the eye and especially prove to attendees how your products are best. Often, it's your new products chosen for demos, so be sure your booth staff is thoroughly trained on products they've likely never seen before.
For a visually arresting product demonstration, Delta Faucets continuously sprays water out of 20 shower heads in one display.
Almost all of Beckhoff's booth is filled with product demonstrations. One transport system product is even greater emphasized with a product demo station close to a high traffic corner.
3. Define Your Aerial Space With Intriguing Shapes
When you are battling for attendee's attention, there is the ground war, and then there is the aerial war. Competing successfully for attention up high requires oversized hanging structures adorned with clear messaging and bold colors.
Even better are large, unusually shaped hanging signs that compel interest. There's something about seeing a new, oversized shape for the first time that gets attendees to give you a second – or even third – look.
These large hanging structures need to be not only beautiful, but lightweight to save on rigging, shipping, and drayage costs. Yet still sturdy enough to hold their shape while suspended from only a few hanging points.
The blue, repeating, undulating shapes over the Brizo exhibit call attention through size and scale. The elegant signs' shapes and color evoke water, appropriate for their faucet products.
The Sleep Number booth (award winner at CES 2018) is crowned with a voluminous, glowing, organic-shaped structure reminiscent of a cloud.
Sleep Number's CES 2020 booth also featured an eye-catching ceiling. Their logo, signifying two triangular up-and-down buttons, are repeated in colorful, shimmering lights.
4. Attract With Bold Color
While it may seem obvious to include bold color in your trade show exhibit design, a quick walk around a show hall tells a different story. There are still timid exhibitors who cover their booth surfaces with only bland beiges, grays, and tans, or highly subdued hues of other colors. But the show floor is no place to be meek.
Bold colors catch attendee's eyes and promote your brand. Anything from vivid reds, oranges, and yellows, to bright greens, blues, and purples. What if your brand colors themselves are bland? That doesn't mean you can't use any bright colors at all as accents or to highlight focal areas of interest.
But be careful about going too far. When the entire booth is all one bright color, that can be so visually overpowering it makes attendees reluctant to enter. Our examples below use bold colors strategically, to get attention from afar and highlight their brands.
Beckhoff's exhibit features their bold red brand color up high to get attention from a distance, while product display walls feature calming white for contrast and to keep visitors in the booth longer.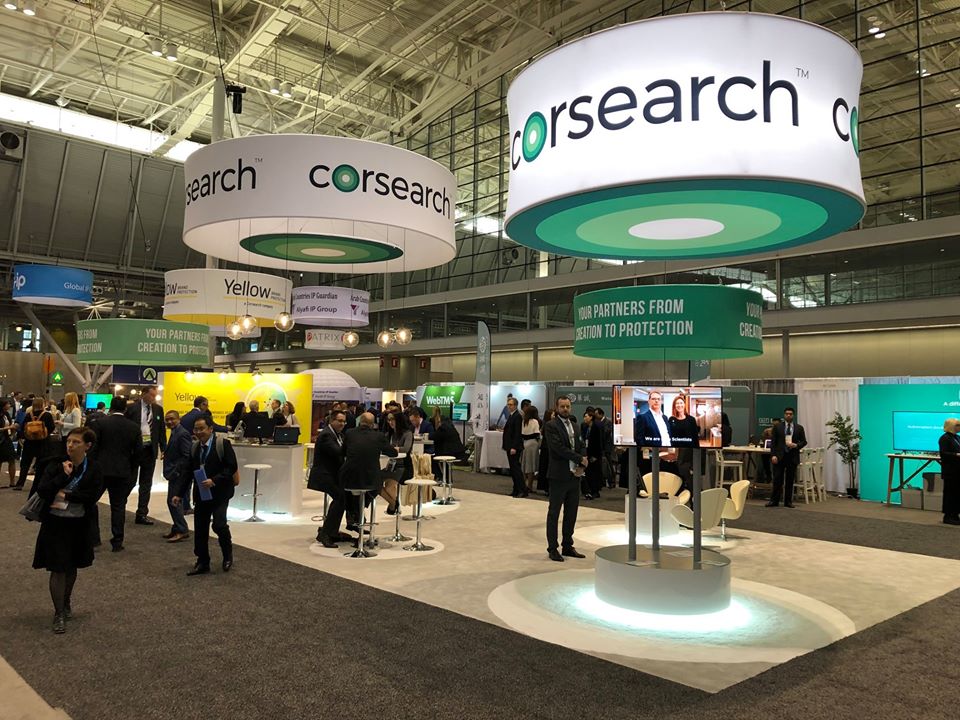 The Corsearch exhibit's hanging signs feature concentric green circles to attract visitors. A portion of the booth features yellow to highlight their Yellow sub-brand.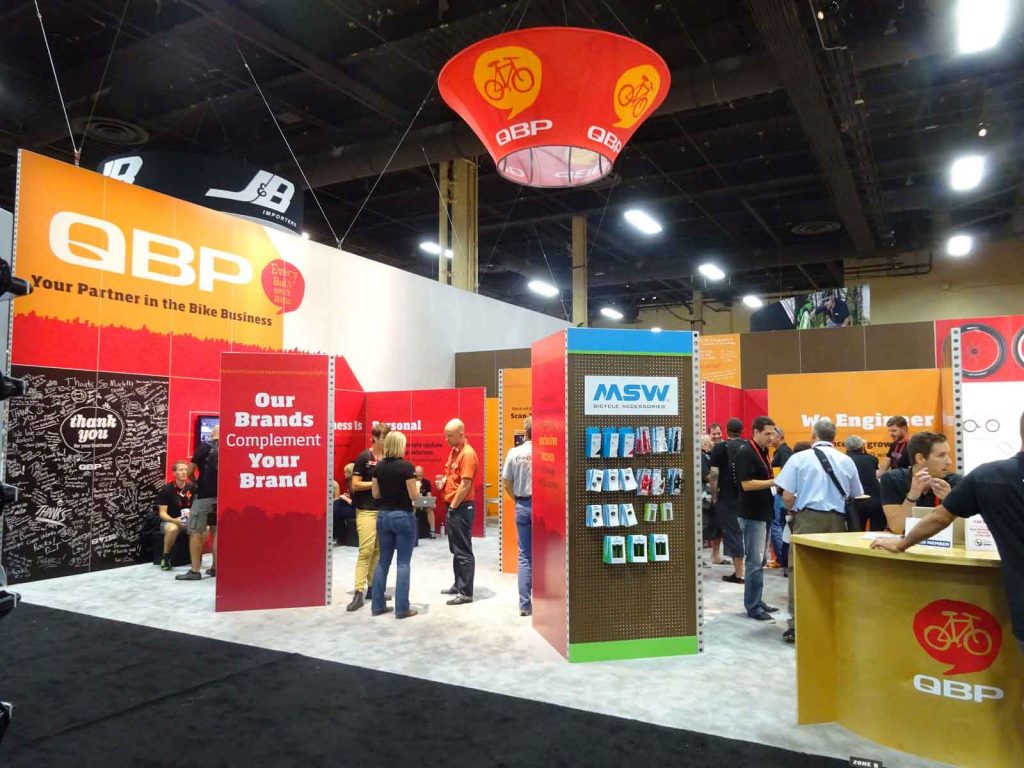 Bold colors draw attention to the Quality Bike Products exhibit, especially to their logo and brand signage.
5. Sell Lifestyle, Not Just Products
Lifestyle marketing features images of people who look like your ideal clients enjoying the life they aspire to. Lifestyle marketing has been a hallmark of business-to-consumer marketing, but it also works when exhibiting at a business-to-business show to engage with your dealers, distributors, channel partners, influencers, and industry media. Marketing images used in your digital and print advertising can also become powerful visuals within your trade show exhibit.
You can also use lifestyle images to promote ideal professional users of your business-to-business products.
Hearing-aid manufacturer ReSound's exhibit includes a large mural depicting an ideal user better enjoying life.
This Delta Faucet's exhibit features multiple murals of customers unconcerned about getting dirty, knowing they'll have Delta faucets to come home to.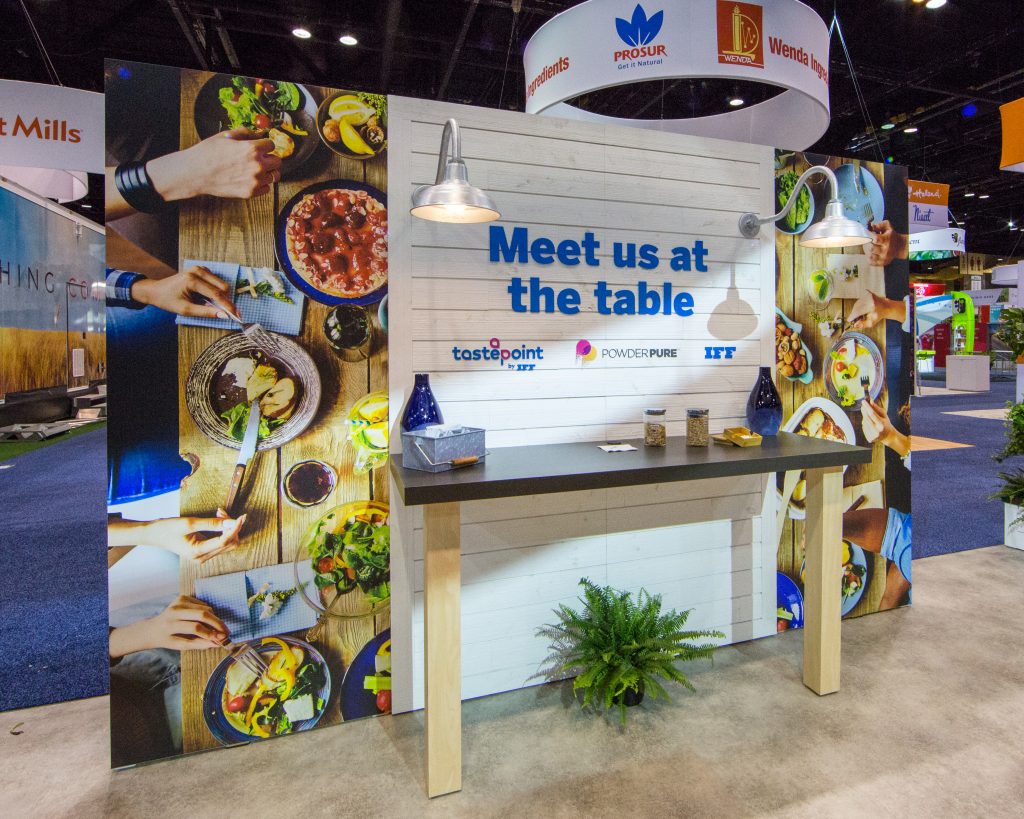 Rather than only show their flavor ingredients, Tastepoint's exhibit features these graphics of diners enjoying beautifully prepared food dishes.
Even business-to-business exhibitors can use lifestyle graphics, just as Ecolab portrays the grit and determination of their ideal user here.
6. Surprise Attendees With Branded Props
Trade shows go beyond print and digital because they are live events in physical space. Attendees experience real, tangible objects with more of their senses. So, when your exhibit features a real life, three-dimensional prop, it both grabs attention and makes a lasting impression.
Props that are unexpected, rare, larger than the real-life version, or retain emotional value will surprise and delight your booth visitors. This includes larger versions of your small products, or artifacts associated with your brand.
Amlactin is sure to get a double-take with these enlarged versions of their moisturizer lotion bottles on all four corners of their island exhibit.
Wilson Sporting Goods calls attention to how all their footballs are still made in the USA with a tall, red simulated Ada, Ohio (site of their football factory since 1955) water tower.
The Watkins Company, maker of spices and extracts since 1868, emphasizes their experience and brand heritage with an attention-getting wagon.
Spectrum Brand's trade show exhibit featured an oversized Tetra fish food cannister to make a bigger visual statement and call attention to their small product.
Stand Out With Your Next Exhibit Design
These 6 proven exhibit design strategies can help you attract and engage more trade show attendees. With a noticeably busier booth, you will be on your way to greater trade show success.
Curious which exhibit design strategies would work best with your brand, products, goals, market, and industry? We would love to have that conversation with you and your team. Call us at 651-578-3600 to get started.