You can make more sales and boost your brand image at trade shows when you give your booth visitors a real-life product experience. An in-person product interaction is more engaging and genuine than an ad or video. Nothing can replace the actual experience of engaging with a real product in real life.
WHY DISPLAY YOUR PRODUCTS AT TRADE SHOWS? BECAUSE IT WORKS.
According to the Center for Exhibition Industry Research, the #1 reason people say they attend trade shows is to see new products, and the number one reason people remember exhibitors after the show is product interest.
Therefore, showcasing your products in your trade show exhibits makes perfect sense. Seeing is believing, and touching is even better.
A faucet buyer needs to experience how the handle works and the water pressure feels to determine the quality. A bed prospect can't know if a high-tech bed is comfortable and worth the expense by just looking at a picture.
Test-driving products in person lets buyers validate what they've read or heard before they make a huge investment. It gives buyers peace of mind, and gives them confidence to buy from you, boosting the sales you make from your trade show program. For example, one of our clients that aggressively showcases their products recently invested $3 million for a single show – but then made a $14 million sale from that show. That one sale more than paid for the show; the rest was gravy.
WHICH PRODUCTS SHOULD YOU BRING INTO YOUR EXHIBIT?
Which products to bring? That's the most common question our clients wrestle with before we design an exhibit for them. That includes:
NEW PRODUCTS: Attendees really want to see what's new, new, new! So, first and foremost, if you have new products, then you most likely want to feature them, so buyers know you are not falling behind your competition. Your engineering and product marketing teams likely have been developing these new products for years. Sometimes they can't say for sure if a new product will be ready for a show, and you have to make difficult design decisions, not knowing for sure which products will be available. However, you may not want to feature your newest products and prototypes if they have not received their patents, or because you don't want to let competitors get a head start on reverse-engineering them.
POPULAR PRODUCTS: Of course, not every exhibitor can show only new products. That's why exhibitors usually also feature a cross-section of their most popular, bread-and-butter products. However, you may not want to bring the same set of products to every show. You can slant the product mix to better match the audiences at each show, depending on the show's vertical market and attendee job functions. You may bring only products that help reinforce your marketing message for that show, or that fit best with the current state of the market. And if you had planned to launch a new product at the show, but it wasn't ready by the show, then you'll potentially bring the established product it was set to replace.
HOW MANY PRODUCTS: Another key consideration is how many products to bring. At the most basic, your upper limit is determined by your booth size, and the amount of other space needed for things like meetings, presentations, and hospitality. Also consider booth traffic and ensure it will flow smoothly and visitors will have a positive user experience. Thus, if you want to show lots of products, you will need more booth space to do it comfortably. Conversely, too many products can be overwhelming and communicate too many messages to attendees. You want a simple, clear message so people remember it after the show, rather than confusing the consumer with a myriad of messaging. Your show messages help connect the product to your brand. That said, there is no single right quantity of products to bring, just what is right for your objectives. We have clients who were heavy on branding shift towards more product, and vice versa, depending on the particular show, the space and the audience. It's a continuum depending on your industry. Our clients often work through post-show feedback to dial in their product/brand balance for their next booth. It's an ongoing evolution.
Sleep Number featured their new Climate360® Smart bed in their CES 2020 booth. Their new product won a Best of Innovation award from CES, and the exhibit won a Best of CES award from Exhibitor Magazine. See more views here.
12 WAYS TO BEST DISPLAY PRODUCTS IN YOUR TRADE SHOW BOOTH
1. Mimic the experience of your product in its working environment
The ultimate way to display your product is to stage it in a setting or vignette that closely replicates the environment where your clients will use it. That environment can be a simulated room in a home, factory, retail shop, or any place your clients use your products. And not just a product on the shelf, but a live, working version so visitors can try it themselves and truly envision and feel what it would be like to use and own it. This simulated reality even extends to how accurately the product is mounted – does it feel right when a visitor operates it in the booth? The same as it will feel at their work or home? The more accurate the vignette, the more likely visitors become buyers.
That doesn't mean every product in your booth needs to be showcased as it actually works within in a vignette. You may choose to showcase only your new products or a particular product functionality or your star products for "wow" factor. Display the rest of your products in a merchandising manner, mounted to walls or on shelving, to convey the breadth of your collection.
And while there can certainly be big branded graphics on the outside, above, or elsewhere in the exhibit, they are rarely used inside these simulated environments, to keep the illusion as real as possible so visitors are focused on the product experience.
Brizo replicates an entire kitchen within their exhibit, complete with cooking props, high end cabinetry, tile floors and walls, and even a ceiling, to better help potential buyers visualize how their faucets will look and feel when actually installed. See more views here.
2. Match your exhibit fit and finish to your buyer demographics
Your exhibit is not just a showcase for what your product can do. Your exhibit's atmosphere and mood convey your company brand and express the aspirational lifestyle of your potential buyers.
And if a picture tells a thousand words, how many words about your brand does a three-dimensional exhibit say? The fit and finish of your exhibit, from its materials, surfaces, structural design, and precision of fabrication, all inform visitors of your level of quality.
Exclusive brands demonstrate their superiority and appeal to high-end buyers with exhibits crafted with meticulous detail and luxury surfaces, while companies whose brand is more rugged or relaxed can accurately match their corporate image with less exacting structures and appropriate quality surface materials.
So, by having a good sense of your brand, you will know when it's important to create a higher quality, detailed environment, or when such an investment would be an unnecessary expense.
Sub Zero Wolf builds their exhibit with extremely life-like luxury kitchens. Their entire exhibit is fabricated with the fit and finish of a multi-million-dollar home to create credibility with potential high-end buyers. Prospects can more easily visualize what owning these appliances would be like when inside the exhibit's hyper-realistic high-end kitchen, complete with extremely tight gaps between the exquisitely finished cabinets and appliances. See more views here.
Polaris displays their Utility Task Vehicles in an exhibit whose construction and finishes match their rugged products and their buyer demographics of outdoorsmen, trail riders, farmers, and hunters. See more views here.
3. Support your products with the right level of detailed graphics
How much product detail should you have in your graphics to support your products? Most of all, that depends on how much responsibility you place on your booth staffers:
If you rely on your enthusiastic, expert booth staffers to provide answers to any questions your booth visitors have, then tend towards less-detailed product support graphics. Let your booth staffers do the heavy lifting, then send detailed product info after the show as follow up.
But what if you feel your booth staffers can't adequately tell your products' stories? Or you have such big crowds that your booth staffers can't reach everyone the entire show? Or, you tend to have shy attendees reluctant to engage with your booth staff? Then support your products with graphics that include product name or model number, category, features, benefits, specifications, and QR codes that link to product webpages.
We've seen a wide range of approaches between these two strategies. There's no absolute right answer here, just what's right for your situation.
When you do bring a lot of products, you need to help your booth visitors navigate your exhibit more easily by grouping your products into categories that fit their needs, with graphics that tell them which category is where.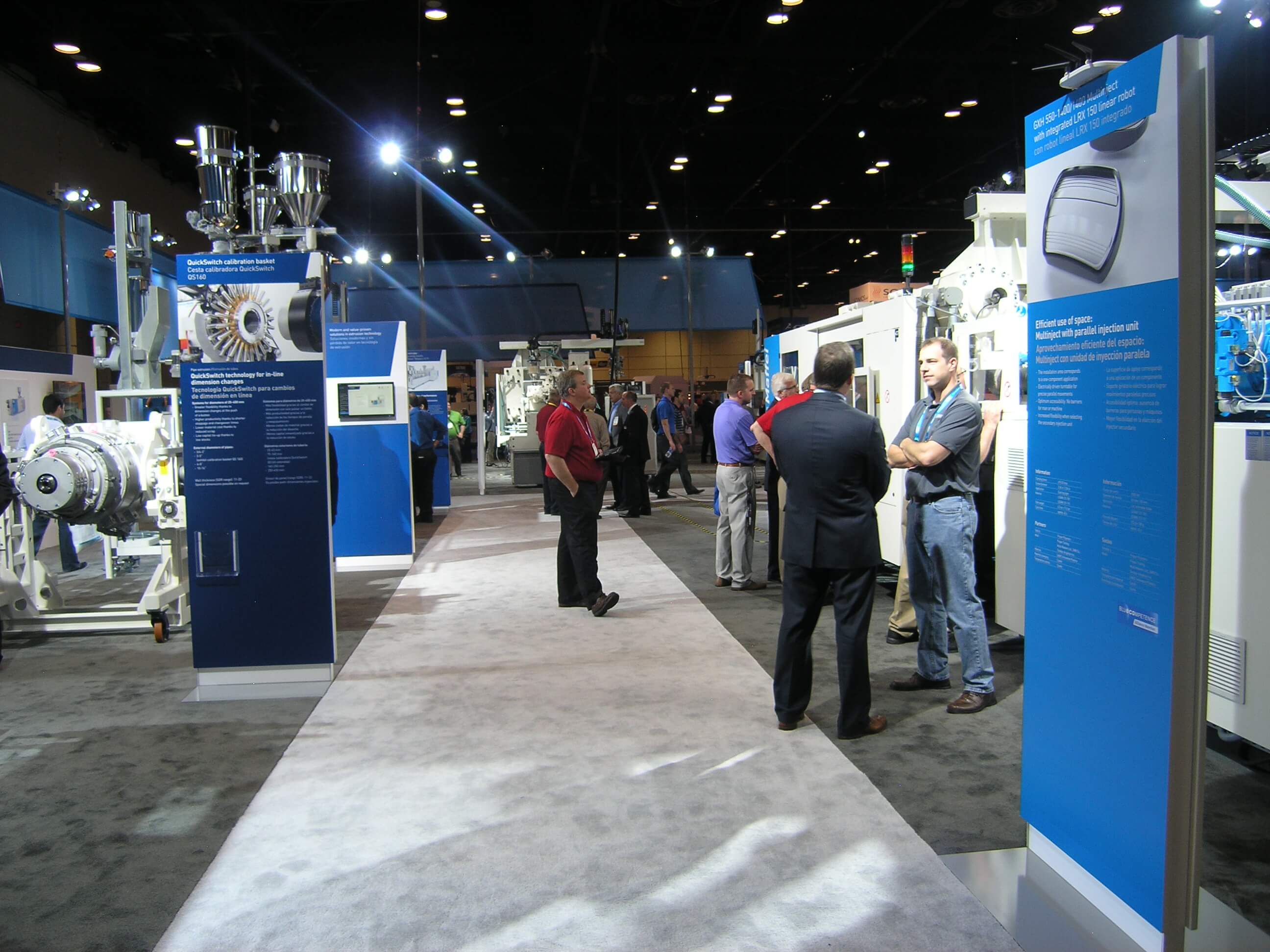 To help buyers feel more comfortable making a significant investment in their injection molding and plastics machinery, KraussMaffei places next to their products 8-foot-tall kiosks with product names, features, benefits, and specifications in two languages. See more views here.
4. Consider where to best place products in your booth space 
Here are three different strategies to consider about where to place your products within your booth space:
On the OUTSIDE of your booth space as close as you can to the aisle, to attract passers-by who can see your product right there within their reach. This strategy is easier with big products that will not walk off on their own or that can catch attention with their bulk – especially if they are in motion.
On the INSIDE of your booth space, for quieter demos away from loud aisles or nosy competitors. This strategy works well with small products, as you can place eye-catching large graphics on the outside of your booth to grab attention instead.
ANYWHERE in your booth space, as long as you don't make it too hard for attendees to enter and touch your products. You may need areas set aside up front for reception to welcome visitors and funnel them to the right product area. And you may also require space for uses besides product display, such as a theater, hospitality, conference rooms, and storage.
Again, there is no one right answer on where to place your products within your booth. We share these various viewpoints to spark ideas on how you could evolve your own strategy.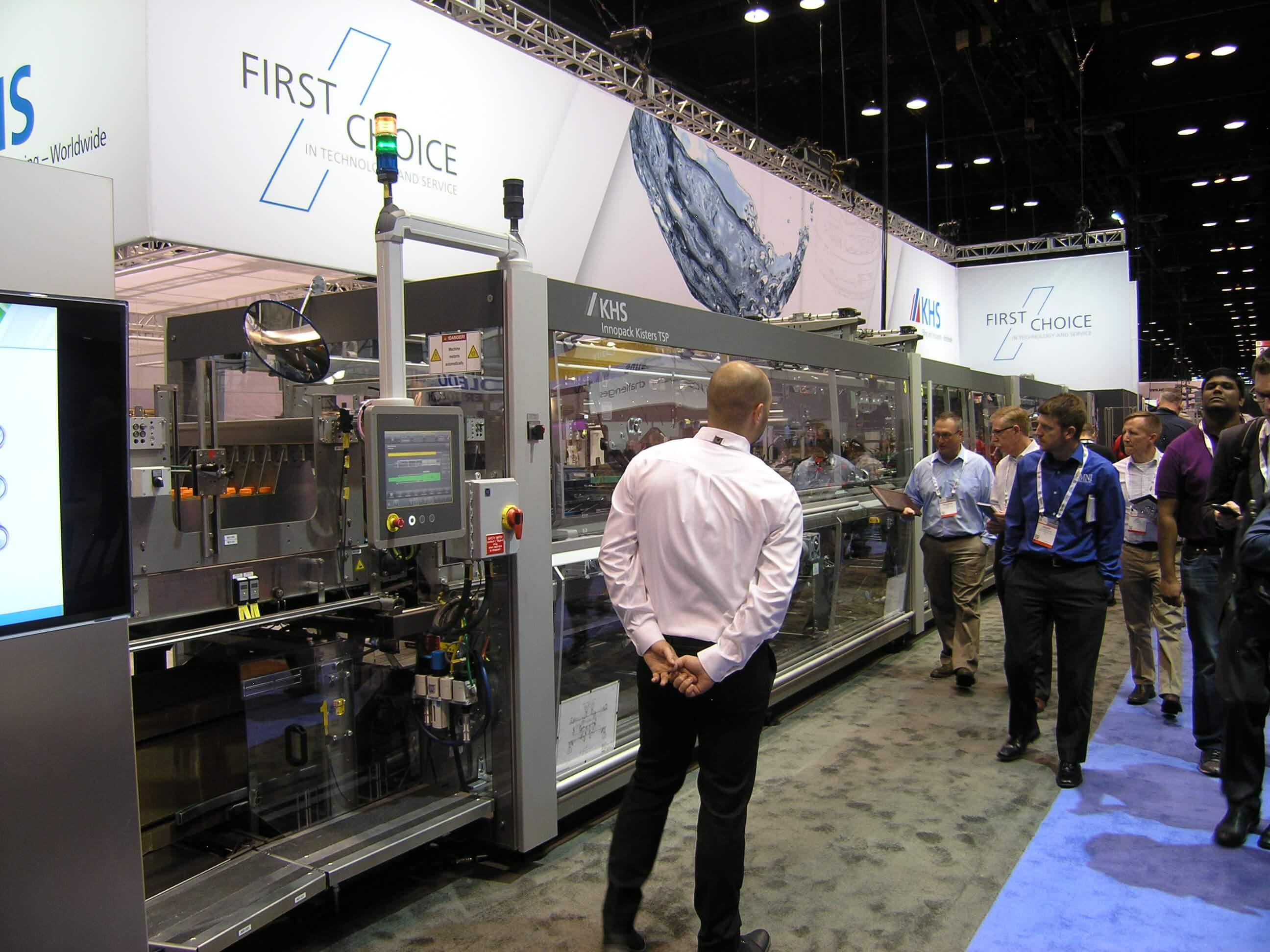 Curious Pack Expo attendees are pulled into the KHS booth by the sights and sounds of their large working machinery right next to the aisle. KHS knows that it is important to showcase their production solutions in a working setting to finalize very large contracts, so their exhibits include large functioning machinery. See more views here.
5. How to display big products 
While large products have attention-getting power on their own, you can even better help attendees with their buying decisions with how your exhibit structure, graphics, and audio-visual technology promote your large products and tell their story.
To let attendees know who makes the big products in your booth, surround them with even larger branded exhibit components, including hanging signs, bridges, arches, and towers. Put products on pedestals that are large but not tall. Then place kiosks next to your products to support them with videos on flatscreens or interactives on touchscreen monitors, and graphics that provide product specifications. Just be sure to give your large products enough room for attendees to comfortably walk around them, in small groups, led by a booth staffer.
And, as we mentioned earlier, building your large products into vignettes that realistically portray how they will look and perform in their work or home environment is a strategy that helps visitors become buyers.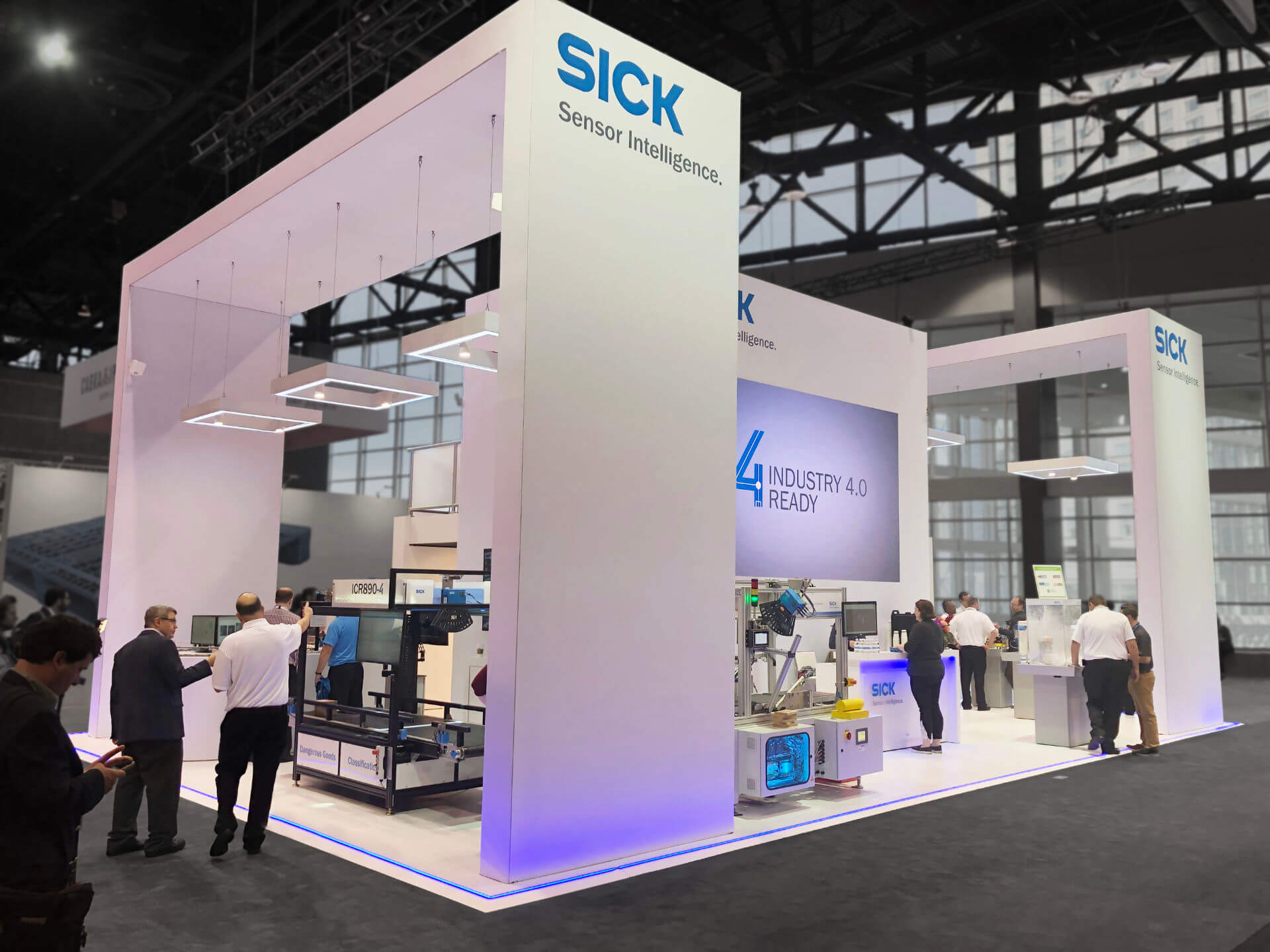 This rental booth for SICK included large exhibit structures with minimal footprint to promote the brand while leaving almost all the floor space available for product demonstrations. A second story provided room for meetings and storage to maximize floor space for their large sensor automation technology machines. See more views here.
In this exhibit, Liberty Hardware promotes their shower doors multiple ways: within a realistic vignette showing their doors installed for a tiled shower; with graphics that provide its features and benefits, and with an interactive, touch-screen kiosk. See more views here.
6. How to display small products 
Smaller products are trickier to display than large products because small products are simply harder to see. You can solve that with exhibit graphics featuring enlarged pictures of your small products.
You can also promote your small products with lifestyle graphics that show your small product in use in an ideal setting. Lifestyle graphics not only capture more attention than a small product can, but they can also help convey an emotional connection between the product and the customer.
You can mount your small products in groups according to categories onto walls or shelves, or secure them behind glass or plex within a display case or atop a kiosk. You can also combine mounted products and graphics together to tell a larger story than just the individual product itself. Or, rather than enlarge your small product with a picture, bring a prop identical to your product, but many times larger.
Beckhoff Automation's small products are mounted on a wall within a graphic that not only names the products, but tells the story of how they all work together as a cohesive whole. Also, the lights on the products themselves are lit up, as if the products are working, for greater realism. See more views here.
Lifestyle graphics with a headline benefit statement attract more attention to ReSound's nearly-invisible hearing aids. See more views here.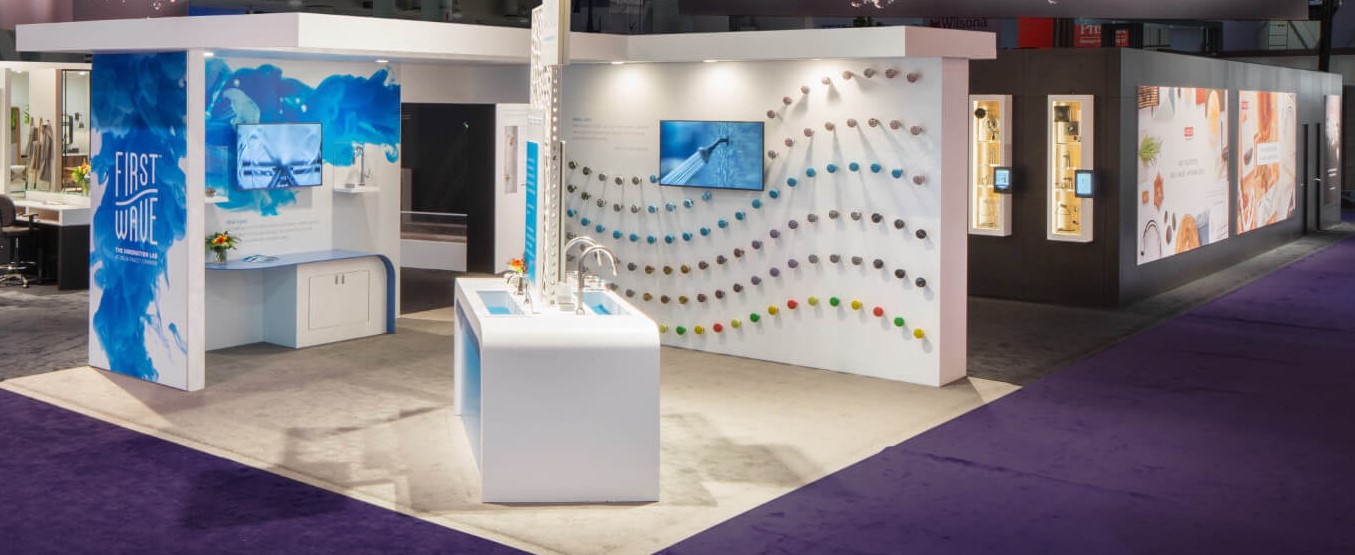 Delta Faucet creatively showcases their small First Wave shower heads by mounting a wide palette of model colors into a large pattern that evokes the image of water spraying from a shower head. See more views here.
7. How to display challenging products 
Not everyone can bring their product to their booth and just place it on the floor or a shelf. Some types of products require greater effort to display in the way that attendees want to see them:
When your product works as one part of a larger system, it can be a challenge to economically reproduce that system on the trade show floor. To provide running water at a lower cost than using plumbing from the show contractor, we have built loops with recirculating water pumps adjusted to a certain pressure that provide a very realistic experience. To simulate in-floor radiant heat, we built a concrete top on a cabinet with warm water flowing through it which made the surface warm to the touch so attendees could experience it. To simulate outside data inputs into technical products we have built realistically flashing lighting into product displays.
When your products are outside at events, they are exposed to the rain, snow, and the surprisingly biggest factor, the wind. You have to ensure that your products and any exhibit structures will be safe in any of these elements. You have to ensure the grass or ground or asphalt the exhibit stands on is level, or else bring in a floor that you can level. Otherwise, you risk displays and product tipping over if conditions are less than perfect.
This Delta Faucet exhibit captures attention and lets attendees see how products actually work by simultaneously spraying water out of 17 shower heads and 5 bath faucets. Self-contained water is pumped in a recirculating loop to provide a continuous flow of water without requiring expensive trade show services plumbing. The entire system was built into the exhibit components (ceiling, wall, trough) and sent to the show. See more views here.
8. How to promote products you didn't bring 
You may have people on your team who want to bring even more products to display in your booth. But at a certain point, it's too many. How do you make those people less anxious about not having every product there?
You tell them that having too many products in the size booth space you can afford will create too much visual confusion and a poor traffic flow, and that you have other ways to provide product information to show attendees asking about products that are not in your booth:
An iPad or an interactive digital touchscreen kiosk that includes easy access to all your product videos and pdfs of all your product brochures.
Booth staffers can scan attendee badges and use a digital lead retrieval app that is capable of instantly sending prospects your product brochure pdfs, or if not possible, then record what product they are interested in for your marketing team or sales rep to provide in a follow up email. (Fewer exhibitors are providing paper brochures in the booth for sustainability reasons and because much of it gets thrown away).
With an iPad or a computer, take them to your company website and show them the page about the product they are interested in.
Tell your prospect to visit your local office or dealer, or to visit your website.
Bring your paper catalog to the show.
If your product marketing and sales teams have done their homework on which products to bring to the show, this should not be a major issue.
9. Light your products well 
All your efforts to showcase your products will be a shadow of your full potential if you fail to adequately light them. "Like moths to a flame" applies to trade show attendees and well-lit products. Trade show halls are not like regular interior spaces – as a rule, they lack big windows to bring in outside light. And while show halls do provide some light, you need extra lights on your products to focus attendee attention where you want it. Lighting your products is a great investment.
Brizo faucets are given star treatment with dozens of lights that focus attention on their many high-end products. See more views here.
10. Bring backup product and demo parts 
When you have products in your booth that attendees touch and use, it's worth bringing backup. That can mean extra product samples, and parts of systems that are not your products, but are used to help demonstrate them. That way, if they wear out or break, you don't have to wait a precious day of the show for the replacements to arrive. Also, store them somewhere you can get your hands on them fairly quickly if needed.
11. Fully promote your brand, not just your products 
Even though many exhibitors want to showcase their products, that doesn't mean the brand is left behind. Your brand – including the visibility of your logo, the personality of your company, the aspirational lifestyle you are promising, and the feeling about your brand that you want visitors to remember – are still paramount. You want customers to viscerally feel and connect with the enduring value of the brand behind your ever-changing range of products. When customers know what your brand stands for – and that aligns with their values – you gain preference over your competitors' products.
Brizo includes in their booth next to their products a stylish lifestyle mural that embodies its upscale target market. See more views here.
12. Consider interactive activities and technology to augment product demos 
While your product demos are often the main interactive experience you host, some exhibitors also host tech-enabled interactive brand experiences that powerfully engage visitors and compellingly convey your product benefits and brand messages. Tech-enabled interactives appeal more to younger audiences that have grown up as digital natives. Interactives include video walls, augmented and virtual reality, touchscreen kiosks, digital games, custom apps, amplified presentations, social media integrations, and more. Used appropriately, technology can truly elevate the brand or product experience and make your message more memorable.
At CES 2022, Sleep Number booth visitors were invited to wear a Microsoft HoloLens mixed reality headset for a sensory and immersive experience that let attendees see, feel and hear the 360 smart bed benefits. The HoloLens virtual content simultaneously blended with the physical product demo, which both enhanced the visitors' product experience and reinforced Sleep Number's brand position as a leader in sleep technology. See more views here.
PARTNER WITH AN EXHIBIT HOUSE CAPABLE OF SHOWCASING YOUR PRODUCTS
When the stakes are so high, your products must look great and function on the show floor. So much depends on your exhibit house consistently performing. Everyone wants to spend less, but you eventually realize that quality and service ensure trade show success and come at a higher, yet worthwhile price.
Seek an exhibit house that will make your products the star of the show with:
Account teams that deeply learn and know your products, buyers, and brand as well as you do.
Designers who understand your industry, your client demographics, and know how to make your product and brand experience engaging for visitors.
Engineering and fabrication teams able to turn unique creative design concepts into eye-catching exhibit structures that showcase your products and brand.
Service technicians who know your products so well they can install them and manage show utility ordering and your product sample inventories so you don't have to.
Give your exhibit house a lot of time to design and build your product-centric exhibit. There are so many details that require time to communicate, brainstorm, and decide upon. Meet with your exhibit house 6 months before a major show to review both your overall company goals and your specific trade show goals. Discuss with your exhibit house which products to emphasize, which products to have working live, which to display, and how they all should be organized. Regularly meet with your exhibit house as you work through iterations of concepts and ideas, and then fabrication and installation. It's more work up front, but it will pay off with a much better show experience.
If you and your exhibit house are partnering with an interactive tech agency or your own ad agency, also bring them in months before the show. You will give them more time to brainstorm better ideas and research potential technical solutions. They will give you their best work and you'll also lessen the chances for technology not working at the show.
MAKE MORE TRADE SHOW SALES WITH BETTER DISPLAYED PRODUCTS
Trade shows are the crossroads of the buyer experience. Buyers come to see the latest products vendors are introducing, and to compare multiple vendors to each other. When attendees come to shop, do your best to earn their business by prominently and positively displaying your physical products with the many tips we covered in this article.
We hope this article helps you to better display products in your trade show exhibit. If you'd like to brainstorm with an experienced industry colleague about how your company can do more, we would love to help. Simply call us at 651-578-3600.